For the first time SOTW will be featuring on the site news and will be a continuous area of focus. The winner of Signature Of The Week (SOTW) will be shared in the upcoming news posts every week. This week features the result as chosen by the staff, as well as some shared thoughts on the winning creation. Congratulations to Togami for winning SOTW #187 based on a competition of using stock and inspiration from Toukiden: The Age of Demons.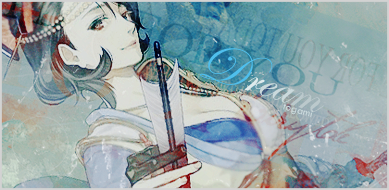 ''A warm choice of colour approaching the top for another delicate featured character. There's no heavy tones to contrast against the choice of character and I feel it just blends nicely together in a winter spell. The composition is also interesting.
A very pretty entry. The background is subtle yet dynamic with the use of fonts. The coloring could use a little more contrast. The gritty grunge looks really well done here. I'm also loving the hints of red throughout, adds the perfect break for the palette.
I love how the render really blends very well with the background, and the shadow texts in the background really help to cover the simplicity of the background, the blue color gives a sense of calmness to the overall sig. Nice work!''
The next SOTW you can find the link below to and will be a competition based upon using monochrome style creations. Enter now for a chance to be featured here following the winners choice when entries close for judging.
View SOTW #187 on the KOEI Warriors Forum now...
Enter SOTW #188's Monochrome contest on the KOEI Warriors Forum now...